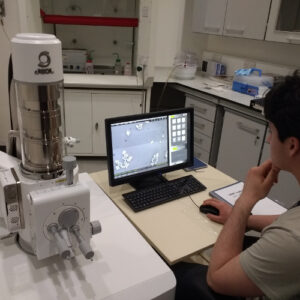 All 4th year undergraduate students in the Department will undertake a year-long research project (PH450), and MSci students will continue this into their 5th year (PH550). Students can also sometimes be funded to undertake additional projects during the summer.
The Semiconductor Spectroscopy and Devices group offers theoretical and experimental projects in a range of different research areas, such as:
Luminscence spectroscopy of semiconductors
Scanning electron microscopy techniques
Crystal defect physics
Group III nitride optoelectronic devices
Gallium oxide UV detectors
Experimental quantum nanoscience
📖 Published undergraduate research
Many of the projects we have hosted have led to students co-authoring peer-reviewed journal papers about the research they have contributed to. The authors highlighted in bold were all undergraduate students in our group when they carried out the published research.